In Between Homes? Check out This Lifesaving Rental Move-In Checklist!
By: Coral ~ 8/15/2018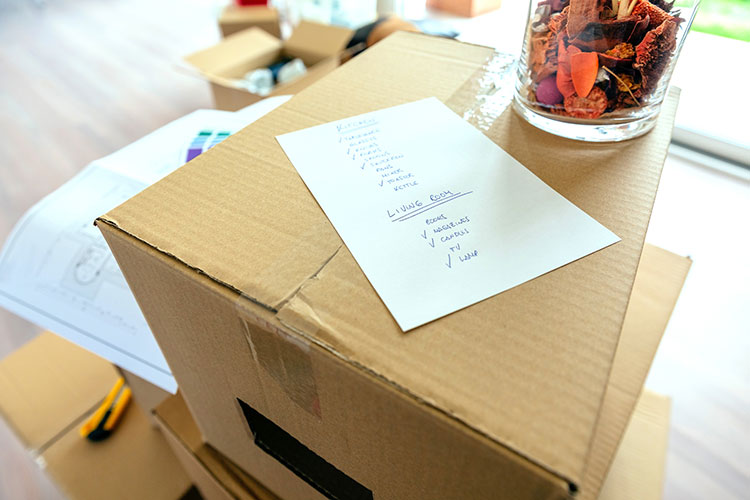 In Between Homes? Check out This Lifesaving Rental Move-In Checklist!
In Between Homes? Check out This Lifesaving Rental Move-In Checklist!
In Between Homes? Check out This Lifesaving Rental Move-in Checklist!
Being in between housing is stressful enough as it is. Make moving into your next rental a breeze with this convenient rental move-in checklist and alleviate some of that unnecessary stress!
Keyword(s): rental move-in checklist
Moving to a new place is exciting, but it can also be stressful. Especially if you are having to move into a temporary rental, meaning you'll have to move twice. That can make the process of packing and planning for two moves even more confusing.
You may have questions like, how is a temporary move plan different from a regular one? How do I know what I need to take with me?
But with the right rental move-in checklist, there are things you can do to make the moving process as seamless and stress-free as possible.
Let's walk through a checklist of things to do to take the guesswork out of your upcoming temporary move. And as a bonus, it will make the second leg of your move even easier.
1. Find out What Is Already Available in Your Temporary Rental
Knowing ahead of time what your temporary rental may provide for you means cutting down on the amount of work you'll have to do in the long run.
The less you will need to move and unpack, the less you will need to do once it's time to move into your permanent house.
Ask for a detailed inventory list from your landlord of what they provide. Make sure it helps you answer the following questions.
Furnishings and Household Goods
Do they provide your major furniture pieces?
What about lighting and artwork?
What appliances are provided in the unit, both large and small?
Do you need to bring your own bedding?
What bathroom items are provided?
What kind of kitchenware is already in the unit?
Are there any cleaning supplies provided, and if so what kind?
Utilities
What utilities are you responsible for?
Will you need to provide connection notice to any of the utility companies? Or is that already taken care of?
What about added services such as cable and internet providers?
If you want to add services, such as paid movie providers or enhanced WiFi, is that allowed?
Knowing what to expect means knowing what to pack for. And that can ease the burden of moving more than you realize.
2. Consider the Climate
Depending on where you are moving from, Seattle may have an entirely different climate than what you are used to or what you are currently living in.
Research what the weather is like for the time frame of your temporary move. This will help you know what clothing and accessories you will need, and ones you can comfortably pack away until you move into your permanent house.
3. Make a Rental Move-In Checklist
Now that you know what items are provided and what items you will need in your temporary rental, it's time to make a detailed moving list.
Remember, the more items you move into the rental unit is more items you will need to move out. So, list only the things you will need while you are there. Don't forget important things such as electronics you'll need, toys and games for the kids, important documents, medications, and anything of value you don't want to keep in storage.
It may be tempting to bring everything you enjoy and things to keep you entertained, especially when you're moving to a new city and don't know anyone. But try to use that time to also explore your new surroundings. Get out and see everything Seattle has to offer!
4. Pack the Essentials in Separate Boxes
Once your list is complete and you know what you need to bring to the temporary rental, make sure those items are packed separately from everything else.
Mark boxes with either the word "Storage" or "Rental". Or whatever words work best for you. This way the movers will know what boxes go where, avoiding any annoying confusion.
You don't want to end up moving into the rental then discovering a box you need is buried somewhere deep in storage.
5. Find Storage for the Items You Don't Need in Your Temporary Rental
Everything that you don't bring to your temporary rental can go into storage. This way it is out of the way and already boxed up, ready for the permanent move.
And when it comes to storage, you have a couple different options.
Storage with The Moving Company
If you're using a moving company, check with them about storage needs. Many moving companies provide temporary storage for their customers. As part of the contract, they will move your things into storage, then out again when you need it for the second leg of your move.
This makes the process so much easier on you. It eliminates the need for you to find separate storage and in making arrangements for items to be moved both in and out.
Just be sure you know what type of storage your items will be kept in. Is it secure and climate controlled? These are important features you will want to ask about.
Self-Storage Units
If they don't provide temporary storage or you're not using a moving company, you will need to find a separate storage unit.
Research facilities in the area to find one that provides everything you need. Make sure it's large enough for your items, is climate controlled, and provides 24-hour security.
Of course with this option, you will need to make arrangements with the storage facility on when you plan to move your items in and when you will be moving them out again.
6. Take Care of All Paperwork
As with any move, there's going to be plenty of paperwork to sort through. To make sure you don't forget anything, go through this checklist:
Depending on the length of your temporary move, apply for a temporary change of address and update your car's registration and driver's license
Bring all medical records and school documents you may need
Update your insurance policies
Contact your bank, other financial institutions, and any needed service providers
Make sure all paperwork is completed with your temporary rental
Moving into Temporary Housing Doesn't Have to Be Stressful When You're Prepared
Being prepared with a rental move-in checklist can take much of the stress out of any temporary move. Which leaves room for the excitement moving to a new place can bring!
Have questions on how we can help with your next move? Contact us today!

---